By Robin Gray Design
The Street Talk Collection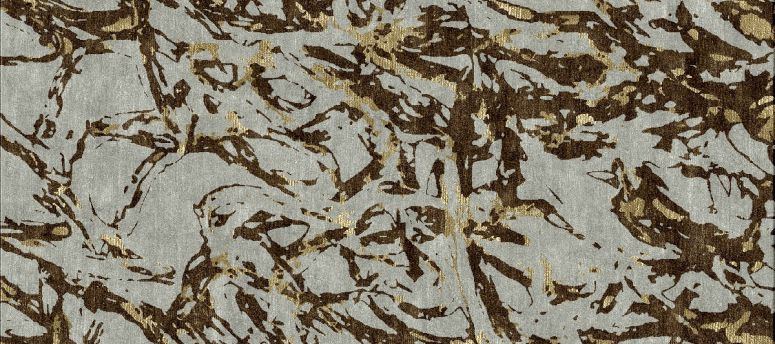 Rooted in the idea that a human language lies within our concrete environment, Robin Gray's new collection "Street Talk" gives motion to aspects of our surroundings that are traditionally considered fixed or permanent. Gray's seventeenth Tibetan rug collection shows that buildings, walls and streets have layers just like humans do. No stranger to travel, Gray drew inspiration from photos she took during her various journeys and her experiences in locations all over the world.
"When I travel I take a lot of photos of various things that I find interesting or beautiful – different colors and textures, graffiti, old doors, a discarded rag," she explained. "Toward the end of last year I decided to see what designs I could come up with using some of these various images as well as others I have gathered. I also wanted to do some more contemporary art and abstract/painterly kinds of designs using these various overlooked elements."

Although the ideas behind the rugs are derived from scenes of various corners of the globe, Gray kept her designs approachable.
"While my inspiration came from locations the world over, what you see when you look at the rugs isn't foreign," she said. "Rather, you can easily imagine an image as part of your own place (your own home, city, downtown, etc.) when, in fact, it may have been inspired by an image from Kathmandu."
Highlighting elements of our everyday surroundings that usually go unnoticed was a key part of the Street Talk collection as it brings out the uniqueness in disregarded objects or elements of various backdrops.

"This collection is a way to show that there is beauty, even art, in many things we disregard, don't really look at or pay attention to, take for granted, see as junk or, in the case of graffiti, as an eyesore," Gray explained. "The old saying 'one man's junk is another man's treasure' applies because for me, these everyday images are a treasure and I hope that I express that in these new designs."
The seven designs that are featured include ABRA (peeling/scratched paint on an old elevator), GOSSAMER (delicate fibers of a worn cloth), KATHMANDU (part of a pattern on an old door in Kathmandu, Nepal), PAINT STRIPE, SCRIBBLE NYC (graffiti), SGRAFFITO (scratched surface) and STRATA (peeling painted wall). A 10 x 14 taupe gold KATHMANDU rug is available at The Scarab.
Gray believes that the collection will appeal to her Colorado clientele because "even though these photos/images were taken in various cities/parts of the world, they are images that could have come from anywhere, be it Colorado or California or NYC."


Related Information
View The Scarab's selection of Street Talk Rugs.
Read more about Robin Gray Design.
Check out the Celestial Mirror Collection by Robin Gray Design.