Creating A Modern Cabin In Vail
What started out as a three-bedroom, top-floor condo with an old school 1970s look is now a modern, four-bedroom condo with flair thanks to architect Russell Gies and Studio 80 Interior Design principal Tracie Schumacher. After Gies transformed the stairwell "air space" adjacent to the homeowners' condo into a desired fourth bedroom, Schumacher went to work on a "high-modern design with mountain flair."

With 1,500 square-feet to work with, she was also able to do a lot with small spaces which she found both challenging and fun.
"I like the fact that the smaller the space the more creative you can get with packing in a lot of function and detail," Schumacher said. "You can make them function like small ships while using every nook and cranny!"

Balanced Interior Design by Tracie Schumacher
Throughout the condo, Schumacher matched the existing sharp angles with her design curves –a method she uses often. She also created a "modern cabin" look which meant using wood on some of the walls and stone on the fireplace walls.
"I think modern design sometimes can get a little too crisp and hard-lined," she explained. "I like using soft curves to ease it up a bit. Like yin and yang – you need to have that balance in my opinion."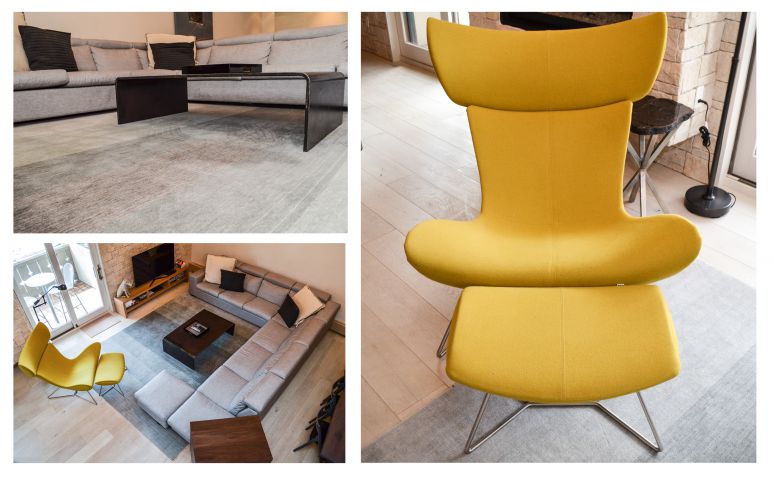 Part of the yin and yang approach was stripping away the excess and allowing the beautiful things to shine through. One of those beautiful things included the grey tone custom area rug from The Scarab that Schumacher chose for the living room.

"The transition between the large stone wall on one side of the room to the full-height wood walls on the other side needed a smooth link, something calm and cool on the floor to bring them together," she explained. "If we had introduced a wilder, bolder statement for a rug then there would have been a disruption in the flow of the room from one side to the other."
When asked how often she uses rugs from The Scarab for design projects, Schumacher immediately responded, "Every chance I get!"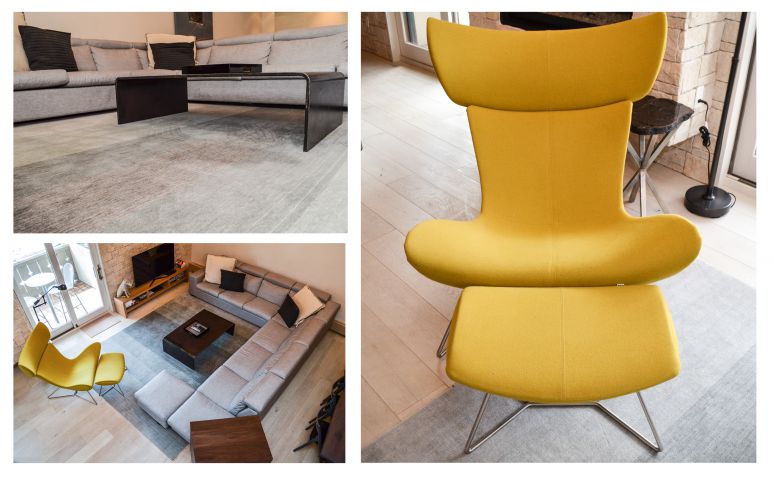 "It's great when I can show them my thought process and where I'm at with a project and they can throw out great ideas from me to select from," she said. "They are the professionals on rugs and have a thumb on what's hot. If we can't find options then we can make them from scratch also. The Scarab knows how to get it done!"
Photography

©

Janie Viehman
Related Information
Read more about Tracie Shumacher.
Coyote Ridge: Tracie Transforms Coyote Ridge Home