Realistic Rug Designs by Samad Rugs
The inspiration for these dynamic area rug designs came from a vivid photograph of wild horses. The challenge was figuring out how to convert such a captivating image into a full-fledged rug, without compromising the authenticity of the captured moment. From there, we found other inspired images which we aimed to recreate in our rug designs.
Just imagine, every square inch encompasses aproximately one hundred knots. Each knot depicting a shade of color as would be a pixel on your computer screen. Now, mulitiply that one square inch by one thousand fifty two square inches which equals the size of a nine by twelve rug!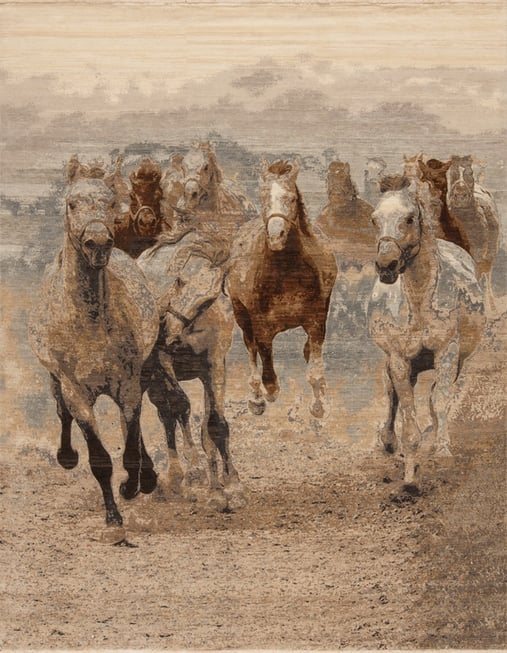 In order to render an accurate depiction, a drawing was made and painted with careful attention to recreating the specific color shades found in the photo. A knotting graph was then added to the painting to delineate a clear pattern for the weavers to follow. This process involved adapting each inch of the painting into a grid that incorporated the exact shading and color nuances necessary to reconstruct the scene. A group of master weavers, each with no less than 25 years of experience, where assigned the task of bringing the rug to life. With many skilled artisans involved in the creation of Wild Horses and the other Animal Kingdom Collection designs, the finished product is a true testament to the craftsmanship and integrity, taking place today in the world of hand-knotted rugs.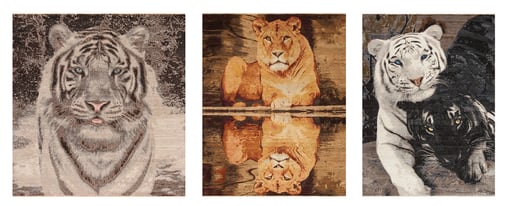 To see larger images of these rugs, contact us and we will email them to you.
Interested in turning your own image into a photorealistic rug? Contact us!
Related Information
Read more about Samad Rugs.