Interior Design By Darlene Daugherty Enterprise

Built in 1970, Vail's Mountain Haus is nestled along Gore Creek at the Covered Bridge in the heart of Vail Village. Offering luxury condominium hotel accommodations adjacent to world-class skiing, dining and shopping, Mountain Haus is the highest-rated (LQA) condominium property in Vail Village or Lionshead. In addition to the location and amenities, what elevates Mountain Haus above the rest is the unique lobby decor created by designer Darlene Daugherty.

Because she was looking for specific pieces to accompany the chosen art and fabrics, part of Darlene's design vision was using rugs from The Scarab to tie everything together.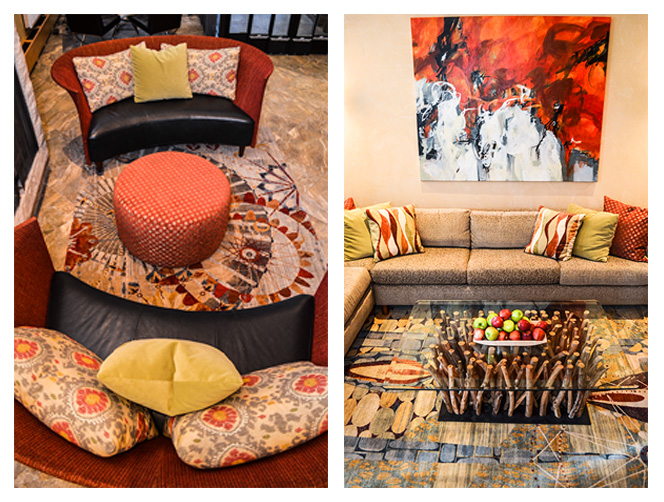 Rex Ray Rugs Compliment The Chosen Art and Fabric
"The Scarab is a treasure trove of 'finds' for me as a designer," said Darlene. "The staff there is wonderful to work with and very knowledgeable. The Rex Ray rugs from The Scarab so perfectly complimented the art and fabrics; it was like the artist had painted the palettes just for us. The wonderful colors and shapes just lit up the space! I just love the quirkiness and a little bit of rock & roll in the design."

We recommend you visit the web site of Vail's Mountain Haus to learn more about their accommodations.
Related Information:
Read more about Darlene Daugherty.
Check our our selection of Rex Ray Rugs.