Design by Marilyn Smith Heaney of Slifer Designs
Located in Beaver Creek with accessibility to the Elkhorn lift, this four-bedroom, four-bath (plus one powder room) ski-in, ski-out home in conveniently located adjacent to the core of one of Colorado's world-class resorts. Marilyn Smith Heaney, Project Manager and Interior Designer at Slifer Designs, worked on the second home for her Dallas-based clients who were looking for a mountain getaway ambiance that was both kid-friendly and dog-friendly, and could accommodate the entire extended family.

"It needed to be practical, but comfortable," says Marilyn. "My clients wanted to have what I would describe as a mountain modern design style that incorporated natural materials with some of the materials coming from Colorado. We worked with rich wood tones and white walls to set off the modern art furnished by my clients."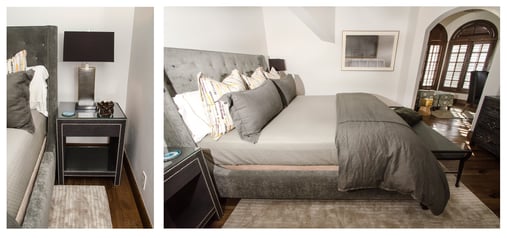 All of the kitchen and bath cabinets were painted except for the powder room vanity which was wire brushed to create more texture and more of a rustic feel. Fabric selections were kept more in the neutral range with the exception of the young daughters' bedroom which was more colorful and fun.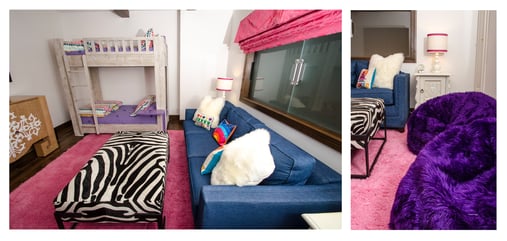 Both master suites have a turret-shaped room adjacent to them that provide a small office and seating area. The remodel involved moving walls to create more square footage in the upper floor office by extending out into the upper living room area for a more spacious bedroom.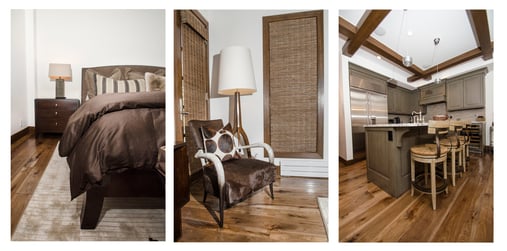 Five contemporary rugs from The Scarab Rug Store were used, all of which were made from handspun and natural dyed wool, which Marilyn says is "not only practical but also adds a look of quality and warmth." She adds that "the living room rug was selected for its colors, pattern and the texture, which coordinated beautifully with the fixed finishes, furnishings, fabrics, accessories, and art in the room." The remainder of the area rugs (entry, upper hallway, master bedroom sitting area, and the second master bedroom sitting area), all contributed a subtle modern design and the natural colors coordinated nicely with each specific area. Marilyn points out that those rugs also added texture, warmth, and a subtle transitional pattern to complement each space.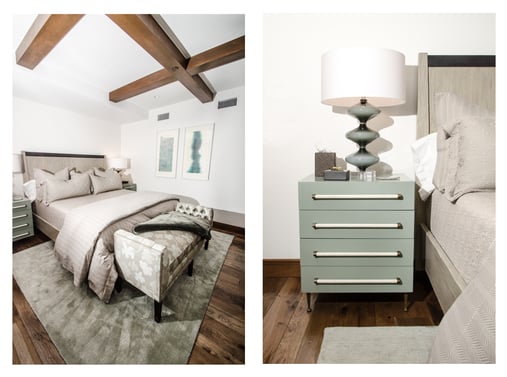 David Burns of Gies Architects worked with the clients, builder, and Marilyn to develop the new spaces, new fireplace, television wall unit, and ceiling details including added beams. The original cramped staircase was also opened up and decorative beams were added throughout the home to give it more of a mountain feel. Andrew Slaugh of Slaugh Construction completed the remodel.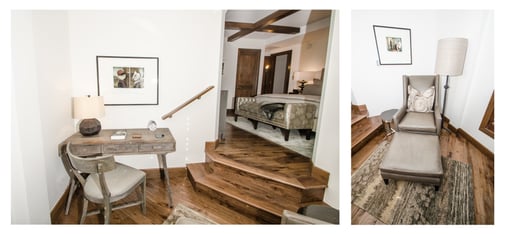 Bringing 35 years of experience in the design business, Marilyn is known for staying flexible and open to each client's vision. In this case, Marilyn's clients understood the process of design, the scope of work, and the many decisions that would need to be made not only for the remodel portion, but for the furnishings portion as well.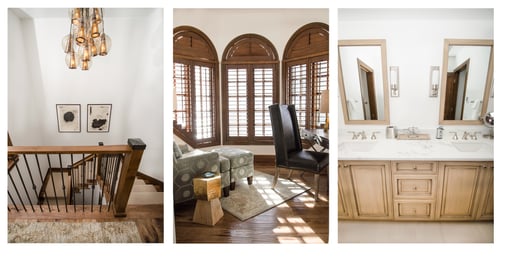 "Listening to my client and interpreting what they tell me is an incredibly important aspect of what I do for them," she explains. "I want it to be a collaboration and I always want them to love their home when it is complete. Collaborating with this family was delightful throughout the entire project and I believe that we all love their new Beaver Creek home!"
See our lookbook to view all images from this project.
If you are interested in updating your home, and learning more about how we can help you, schedule your free consultation now!
Related Information
Read more about Marilyn Smith Heaney.
Are you a designer with a project to share?