The Manhattan Collection
Transitional Handmade Rugs

From the vision of David and Malcolm Samad, The Scarab would like to introduce this beautiful collection of rugs produced in Rajhasthan, India.
The Manhattan Collection, though very distinctive from other hand-knotted carpets as a whole, is made of two slightly different rug collections. The Manhattan Reserve Collection, crafted with 100% hand carded wool and the Manhattan Reserve Wool & Silk Collection, which by its name's description is composed of both hand carded wool and pure handspun silk.
There is a delicate and subtle difference between the two collections. It is the sensual contrast between wool and silk that offers a more sensational complexity and an attractive visual interest that both enchants the sense of touch and charms the eye.

Designs Inspired by Antique Textiles
The designs within the Manhattan Collection are inspired by different elements from the Ottoman, Egyptian and Asian empires. Many of the rug designs are loosely based on antique textiles from these different cultures. David and Malcolm have taken the intricacy and delicacy seen in antique textiles for years and utilized those same elements to create rugs with an incredible aesthetic value that is rarely seen in hand-knotted carpets.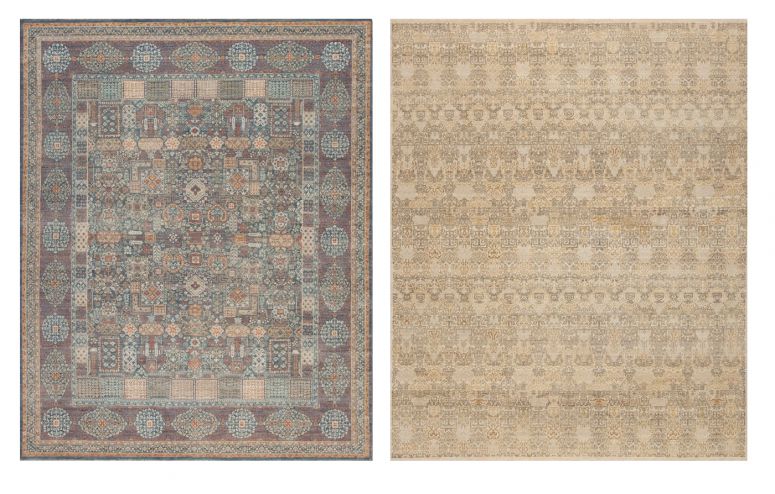 There are more than 130 different designs and colorways available within the Manhattan Reserve and the Manhattan Reserve Wool & Silk. With the diversity of colors and designs in this collection, The Scarab is proud to present this collection in their showroom. "Interior designers can truly appreciate the role these transitional carpets play in keeping pace with the ever changing demands of their clientele." says, rug merchant Larry Stone. Continueing, "The designers we work with in the world class resort of Vail/Beaver Creek, have a very sophisticated and diverse sense of style. The colors and textures of this collection help to suite the needs of their clients." By utilizing historical and revered design patterns while continually updating their colorways to match modern trends, Samad has proven to be an innovative and pioneering rug producer.

Learn more about Samad and the diverse selection of area rugs offered at The Scarab by exploring the links below.
Related Information
See The Scarab's selection of rugs from The Manhattan Collection.
Read more about David and Malcolm Samad.