Yvonne Jacobs of Slifer Designs
After designing three houses with Slifer Designs, Mark and Julie Filler decided to hire the firm again to work on their vacation home. This time they wanted their home to "pass the soft test" so they enlisted Slifer President Yvonne Jacobs to work on their 5,500 square-foot Snowmass residence.
A very family-oriented house, the client made it clear that this would be a place that was lived in so nothing could be "too precious." The young, active family was looking for a modernist approach with natural elements. In an effort to bring the outdoors in, the living room doors open to the back patio creating a very open setting.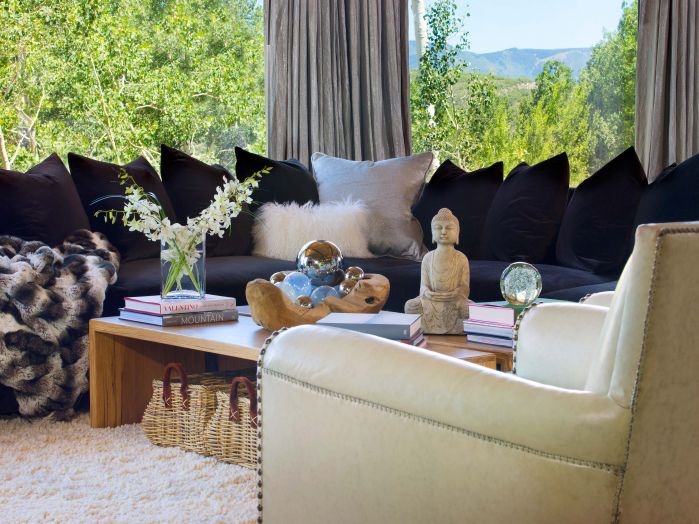 Modern Interior Design for a Colorado Mountain Home
"They were looking for a modern version of a mountain cabin," Jacobs explained. "They wanted every room to feel comfortable and a place to kick your feet up. The home is an open floor plan so when family and friends are over they can all congregate together."
In a pretty dramatic shift from the Fillers' former residence, which was much more of a mountain cabin in design and feel, the Snowmass home features organic/rustic elements. The family wanted to retain some of that "log cabin living in the mountains" comfort within the framework of a much more clean and modern look.

A multi-faceted texture design and look resulted from the use of a lot of wood, metal, glass and stone finishes, as well as a spa-like feel to the bathrooms. Furnishings were selected to be modern but fun, approachable, comfy and cozy. Again rustic/organic elements were mixed with some retro pieces and modern pieces, as well as adding what the owner likes to call "sexy" elements.
"The architecture is very simple but unique in the way it was executed," Jacobs said. "Essentially rectangular boxes on top of each other, and then we used organic modern finishes to keep it from feeling to sterile. The mix was a big success and the clients love it."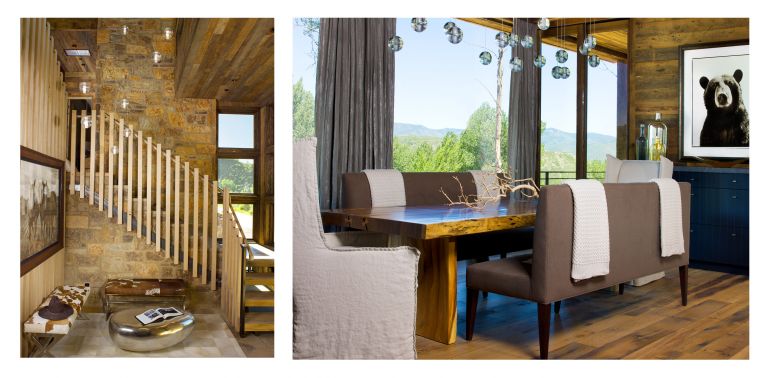 To round out the home, Jacobs used several area rugs from The Scarab and scattered them throughout the house – mostly in hallways and bathroom rugs. She also used accessories from The Scarab in the bookshelves to give it a more travelled look.
"I've worked with The Scarab for 16 years and I love the collaboration of finding the perfect rug/object for a client," said Jacobs. "They are just as passionate about this as I am and I appreciate that."
Clearly, the Filler family appreciated Jacobs as well.
"'Magical' is the best word to describe our new Snowmass house," they said. "We wanted a warm contemporary house with an organic, comfy feel, and needed a designer who could make this vision a reality. Yvonne Jacobs, President of Slifer Designs, designed three houses in Beaver Creek for us and we were completely confident in her professional and thorough process."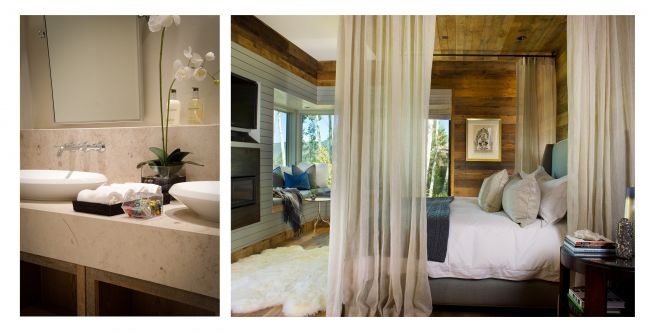 They continued, "After an exciting experience, the result is incredible. Our house is a masterpiece of great design and intelligent imagination. This has been an amazing adventure with a team of dedicated, patient and creative individuals who pulled off a 'one in a million' house for us!"
We hope you enjoyed this article and we welcome your comments.
Related Information
Discover more about Yvonne Jacobs.