New Moon's Peacock Design Wins International Award
So far 2014 has been an exciting year for New Moon as the family-owned rug company recently received high honors when it was named "Best Modern Design Superior 2014" at Domotex for its Peacock Design. The world's most prestigious international rug show on the market, Domotex is held annually in Hannover, Germany where they host a Carpet Design Awards event. Approximately 1,400 companies from 60 nations attended the Hannover Exhibition to showcase their latest products and new collections.
New Moon won "Best Modern Design, Superior Quality" for their Peacock rug which is a 3-ply blend of Tibetan wool, Chinese silk and a natural nettle fiber.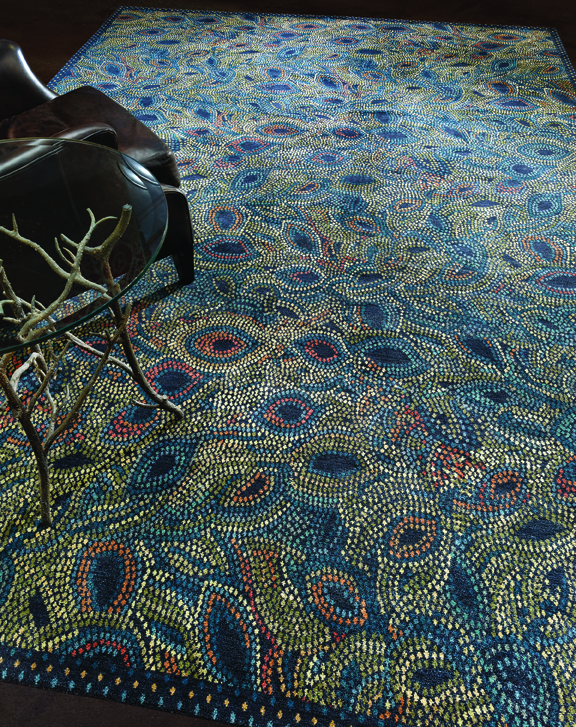 Award Brings Honor to New Moon Rugs
"This was our first year being back at Domotex after a 12-year hiatus," said New Moon COO Erika Kurtz. "Winning the award was a great honor. It is a blind judged event which is nice so that people are winning based on the merits of the design and not the brand name behind the carpet. It was a real honor for a smaller, boutique production to win an award and be recognized among the best competition internationally."
Chosen out of 329 other international rug designs, the Peacock design was inspired by a contemporary mosaic tile motif and features bold and bright colors that combine and overlap to mimic the feathers of a peacock. The indigo blue field is offset with vibrant tones of green, gold, red, orange and teal.
Added Kurtz, "The win highlights the increase in the use of vibrant colors and striking textures in modern home decor."
Headquartered in Wilmington, Delaware, New Moon brings over 30 years of experience to their rugs which are created through true Tibetan weaving. Founded by artist and rug historian John Kurtz, the company has created an international standard of quality for both their carpets and their weavers.