Create Your Own Designer Rug
If time permits, instead of searching endlessly for the ideal rug, you can create the perfect rug in the exact colors and size that work best for you. Custom rugs are a common occurrence for the rug experts at The Scarab. Recently, The Scarab helped to design and produce 24 custom area rugs. Considering that so many modern homes are designed and built with odd shaped or sized rooms, the traditional rug sizes of 8x10, 9x12 and 10x14 are no longer universally appropriate.

With the advances in communication and software technology, you can be confident and assured your rug will be created as you designed it. The Scarab provides up to date communication, both visually and in written form as the rug is conceptualized, woven and delivered for your project. In the past, these rugs were woven in remote parts of the world with very little oversight or communication available. The technological advances of today have streamlined this process allowing for rug productions to become more exact, tightly controlled, and capable of producing exactly what a person half way across the world was hoping for.

Be Inspired by Your Imagination
People find their inspirations for a custom rug from a wide variety of places! Some clients arrive with magazine clippings, fabrics from the space, photographs or textiles. The Scarab has used old wallpaper samples as the starting point for creating custom tibetan rugs. Most recently, one of the interior designers who regularly work with The Scarab brought in a piece of tye-dye fabric. A section of the fabric was selected and used to create a giant 16-foot by 16-foot rug.

Thankfully, most vendors are now using a central set of wool and silk 'poms'. These 'poms' were created several years ago to function as a known set of colors, allowing for the guesswork between different parties to dissipate. No longer is it necessary to send a piece of fabric halfway around the world for a producer to match that color. Now, all a producer needs to know is the numbers associated with your desired pom colors.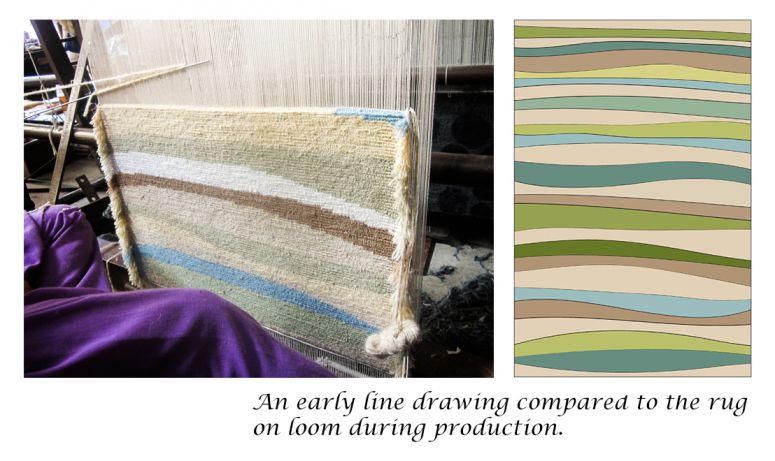 The Scarab makes custom rugs through a variety of different sources. The Scarab has an extremely well versed and knowledgeable team of rug experts with years of experience who can give customers the inside scoop and recommend the best options for your needs.
The timing for a custom rug to be completed is dependent on the time of year, complexity of the weave, dye stuff and situational circumstances. A range of two to ten months can be expected for most custom designs. 4-6 months on average. Factors such as the design, size, type of weave, color options and prompt decision making all play a role in when a particular custom design will be completed.

One of the benefits and comforts clients enjoy when producing a custom rug through The Scarab is the invaluable trust The Scarab has established with their producers. Through nurtured relationships with these established producers, The Scarab has successfuly produced hundreds of handmade carpets in record time.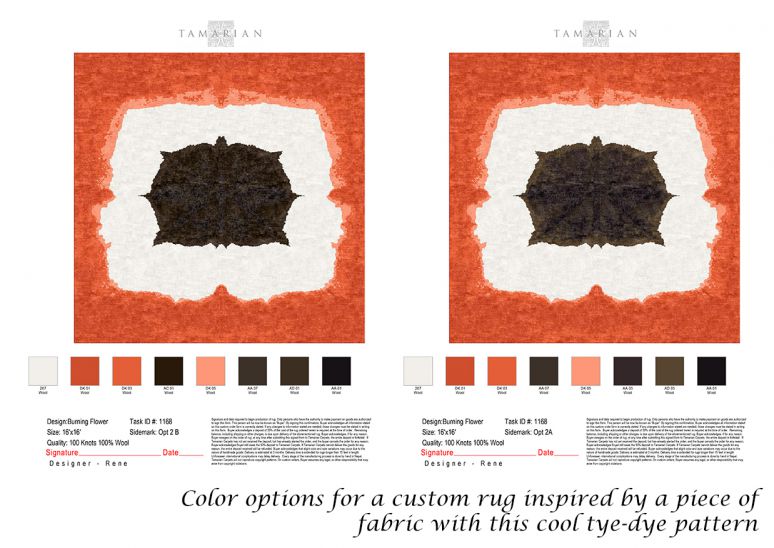 Next time you are struggling to choose your favorite rug or to find one that perfectly fits your space, consider the option of a custom rug. Allow The Scarab to get your custom project started today!
For questions, please contact us.