Starting from Scratch in This East Vail Mountain Home
Designing a remodeled mountain home in East Vail all the way from Louisville, Kentucky might have been difficult for some client/designer teams, but that wasn't the case with Grace Poganski and designer Darlene Daugherty. Although Grace and her husband Greg currently live in Lousiville, they purchased a Vail condo in East Vail that will eventually become their main home. Having lived in the Vail Valley before, Grace knew what she was looking for and was thrilled to work with Darlene who was recommended to her by a friend.
"Until we started this project I had never met Darlene and I found working with her to be an absolute pleasure," said Grace. "She has been on top of everything and has worked as hard as she can for me and I couldn't be happier."
As the owner of Darlene Daugherty Enterprises, Darlene focuses on creating a home rather than just a living space. She believes her job is to always make a project what a client has dreamed of and to make it easier for them to achieve.

Purchased in January 2013, the East Vail townhome was a complete remodel due to severe damage caused by water as a result of a burst pipe. According to Grace, the bottom floor was completed flooded, the second floor had some damage and the top level hadn't been touched or remodeled.
Collaborative Interior Design for the Vail Condo
Although the townhome was in bad shape, both Grace and Darlene saw this as an opportunity.
"The unit was basically stripped down to the studs," Darlene explained. "This allowed us to have a fresh start with a clean slate. Walls came down. Windows were added and the condo could breathe! The remodel added space and an open feel."
Almost a year later, Grace and Greg finally slept in the home they've been designing since March and everyone agreed that it was very much a collaborative effort.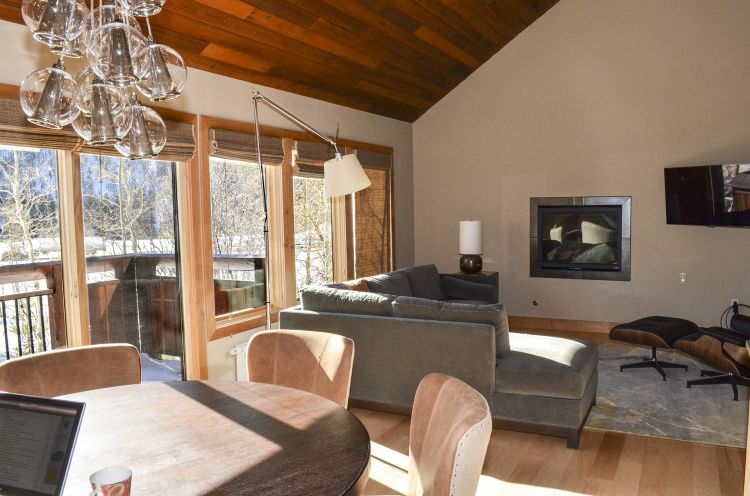 "Grace had a wonderful sense of how the condo should look," Darlene said. "She and her husband Greg wanted the space to be clean and classic. Our mission was to make their love of contemporary style translate to feel welcoming in the mountains. This was done by selecting rich elements like beautiful wood cabinets, floors and tiles, exciting lighting, warm fabrics."
The Scarab Supports Interior design
In addition to collaborating with Grace and Greg, Darlene had the opportunity to work with The Scarab as well. Grace and Darlene chose a Creative Matters rug from The Scarab that made a big statement in the East Vail home.
"The centerpiece is a gorgeous Tibetan rug from The Scarab in the living room," Darlene said. "Its beautiful design and color palette makes it a show stopper!"
Having worked with The Scarab rug store for many years, Darlene was thrilled that rug worked so well in the house.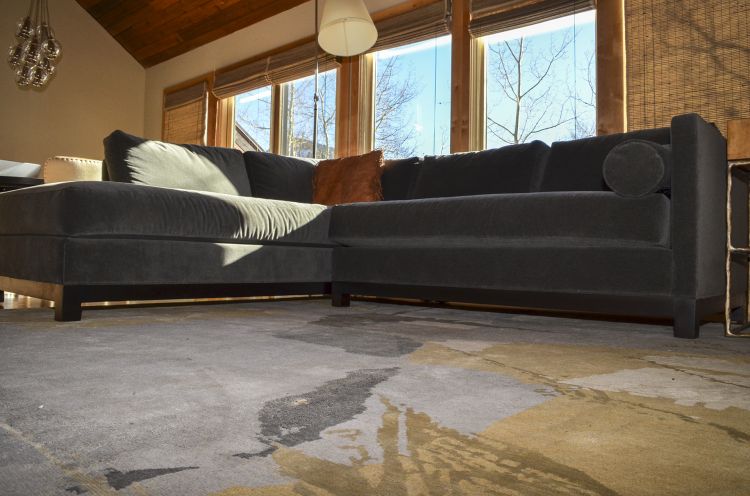 "I have worked with The Scarab forever," Darlene said. "They support me. They always make things happen. Kirsten reads my mind. She knows exactly what I want and is committed to the design and to satisfying the client. And of course The Scarab has access to the most beautiful rugs on earth."
Grace said that Darlene will continue to help with the design details and that she will always recommend Darlene to anyone who needs an interior designer.
She added, "Darlene delivered a style that matches exactly how I wanted this place to look and I just can't say enough good things about her."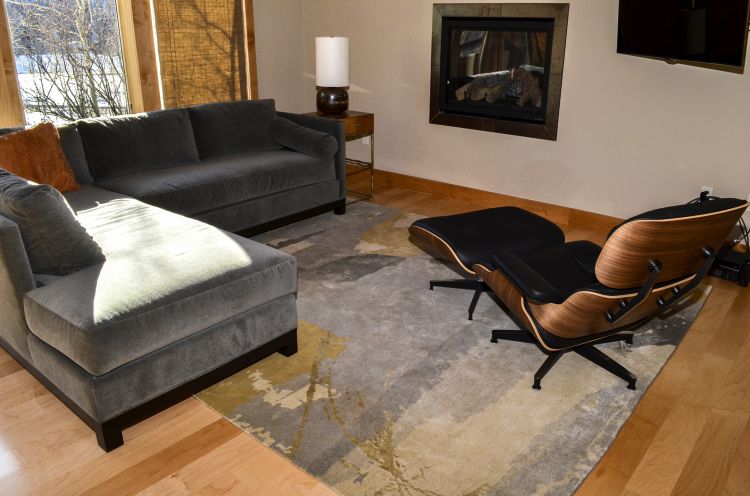 Related Information:
Read more about Darlene Daugherty.
Mountain Haus Lobby Re-imagined.
For more information, please contact us.
Photography © Janie Viehman