Industrial Trash Turned Into Modern Treasure
Although Jane Rohr has a knack for finding hidden treasures all over the world, once the treasures find their way into the store anything can happen. Originally discovered in Texas, this industrial waste, an abandoned old five-foot fan started with faded red blades and a little bit of rust but Jane knew it was something special. It is now a lazy suzan or shall we say a 5 Ft. round coffee table with a spin!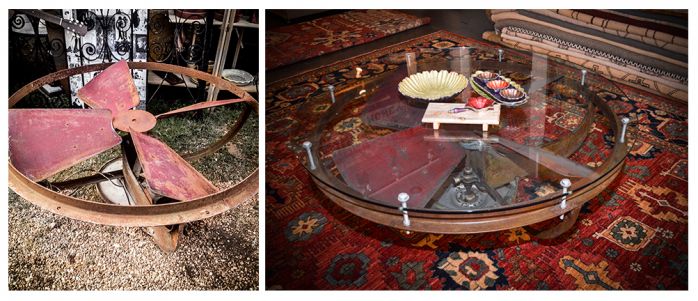 "I love the look of industrial functional pieces being up-cycled and created into an everyday household item such as a table," she said. "The rustic look and size of this fan caught our attention as we were wandering through the flea market. We had that on our list of 'things to hunt' but of course one never knows what will appear! The rotating top, the size, the color and the perfect amount of rust was what sealed the deal for us! We were so excited!" This is what repurposed merchandise is about. Taking something with a prior purpose and redesigning it into something new.
After bringing the fan into the store, figuring out what it needed to become a table took some creativity but The Scarab team's vision made the transformation happen.
"It's important with these pieces to spend some time getting to know them and figuring out exactly what they need," Jane said.
When Daniel Garrett, long-time team member of The Scarab, initially saw the piece, he thought it should be turned into a table. He especially liked the idea since it had the potential to be a Lazy Susan table.

"The idea to make the fan spin was because of how it sits on the pulley," Daniel explained. "We had been trying to come up with different ideas for stabilizing so we called in Andy from Vail Manufacturing. We knew we wanted to use wheels but we just weren't sure how to do it. He came up with attaching a metal circle and overall I think it turned out great."
Added Jane, "We knew we wanted the table to function like a large Lazy Susan with a glass top and after several contemplating conversations, laying on the floor under the table, sitting around it, walking by it and giving it a spin, a client walked in and solved our biggest dilemma: How do we keep the top rotating and keep it stable enough to function as a coffee table?"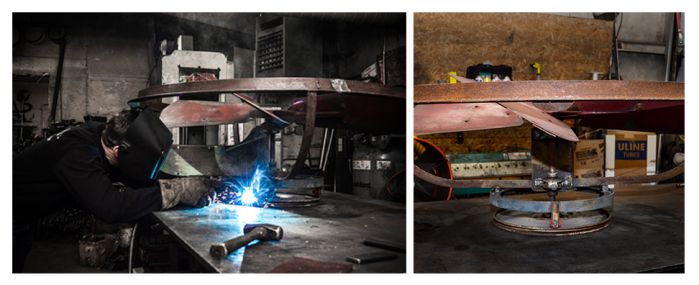 Imaginitive Thinking Repurposes Scrap Into A Lazy Suzan Table
The answer to the big dilemma was adding wheels and support pieces that stabilized the base. Jane decided that using her son's red skateboard wheels would look the best but the team needed some help so they called Manager/welder/fabricator Andrew Burghaus at Vail Manufacturing Inc.
"After a bit more of contemplating how exactly that would work, with the help of the Vail manufacturing guys, the whole thing came together this past week," Jane said.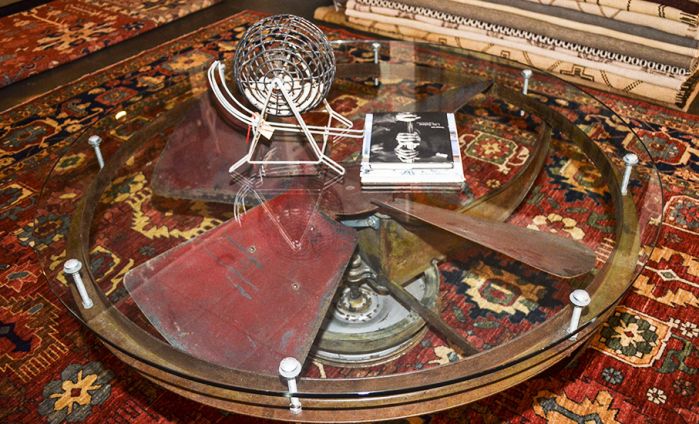 If you like what you've seen, have a question or would like more information, we invite you to leave a comment.
Tags: lazy susan coffee table, re-purposed fan table