Reed Design Group Creates a Textural Retreat

Overlooking the slopes of Arrowhead resides a 14,000 square-foot home so spectacular that it looks more like a lodge than a residence – which is exactly why the owners have deemed it "Moose Lodge." Also, moose happen to be their favorite animal.
"The client is in love with moose," says Elisabeth Reed of the Reed Design Group. "So we did moose lighting fixtures, we hung a big moose over the fireplace, etc. And the place looks like a hotel from the exterior; thus 'Moose Lodge.'"

Reed, who is a Colorado native, is known for bringing a distinctive, comprehensive knowledge of spatial planning and interior architecture to all of her clients' homes. With eight bedrooms and 14 bathrooms to design, Moose Lodge was a project that was as exceptional as it was vast.
"The most unique aspect of the interior design was the grotto we designed at the lower level spa area complete with waterfall, steam room and sauna," Reed says. "I enjoyed working with the client, who was a lovely woman, and a whole crew of very talented sub-contractors and project managers."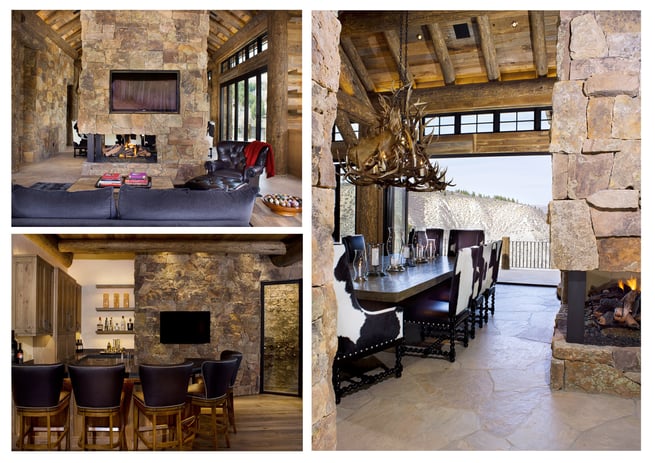 Because incorporating a client's personality and lifestyle into their home is Reed's favorite part of the design process, she always listens to what the owner is looking for and keeps in mind that the house is not about her or her personal design style.
Instead, "the house is about them, their preferences, and their aesthetic," she explains. "If we put all of those things first, each house becomes a very personal representation of its owner which makes each one different and fun and keeps me excited about constantly evolving. I love being a chameleon!"

For the mountain decor of Moose Lodge, the client was looking for a place to call home – "a warm and cozy respite in the mountains."
Reed points out that "this client was crazy about texture, but not about color. Everything we selected and designed had to be warm and textural and serene; there was nothing ostentatious about this house in spite of its size."
Three custom rugs from The Scarab were chosen for Moose Lodge including a large, custom Nepalese wool in the living room, a charcoal gray Banana Silk shag in the den and a third wool rug in the family room.
Reed has been working with The Scarab for over five years and says "it's the service that really sets The Scarab apart."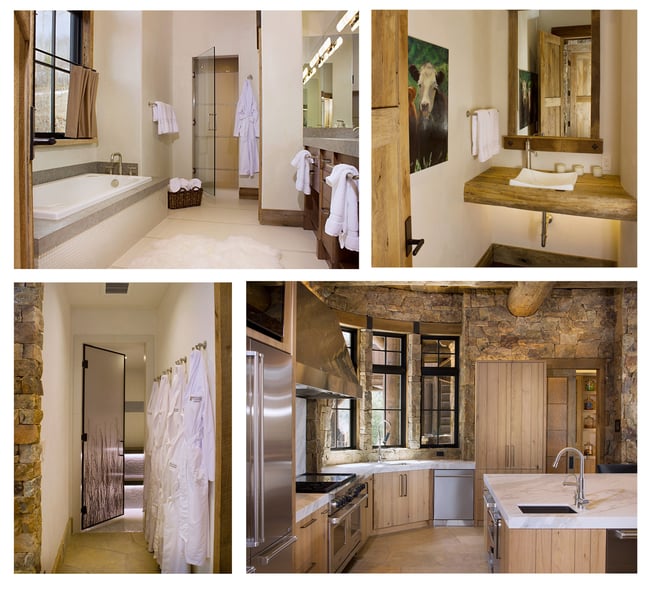 She continues, "Danny and Daniel's willingness to deliver an untold numbers of rugs to various houses for me to 'try out' goes well beyond the call of duty. And, similarly, their patience when unfolding rug after rug on the rug stacks in the showroom so that a client can get a feel for their needs is also exemplary. Kirsten's attention to detail with ordering, status updates, shipping, delivery and invoicing is always rigorous and it's such a pleasure to interact with Larry and Janie as they both exemplify a small business serving their clientele with the utmost attention."
Photography © Ric Stovall
Related Information
Read more about Elisabeth Reed.