Creative Pursuits by Alta Engelbrect

On a spring afternoon in Minturn, we sat with local artist Alta Engelbrecht at The Scarab. We enjoyed her so much, that we wanted to share her story. With a background as an artist and opera singer, Alta is recognized in the Vail Valley as an artist. She is an expert in unique faux finishes and architectural enhancements. With her natural creative abilities and unique eye, Alta became a key component for many interior designers needing custom projects completed. Her own home is a perfect representation of the unique textures she can create, her appreciation of one of a kind objects and how to utilize the unexpected as design centerpieces. Following is from our interview.

What is your career history?
I have done many things, but I have always been an artist in one form or another. I was an opera singer for years. I have done TV work. I am a painter. I work at the Linen Kist. I help out at Fox Hollow Veterinary Office and I used to rule the cream and egg business back in the day when my grandma was raising me in South Africa.
Where are you from?
I am originally from South Africa although I have now spent years in the states. I have been living full time in the delightful town of Minturn for the last two and a half years. My grandma raised me on a farm where I tended her chickens. A zulu woman was my caretaker for much of my childhood. She taught me so many unique skills like weaving and making traditional mats.
What inspires you?
Different cultures, textiles, design on a dime, my grandma, flea markets (particularly ones in Paris), Jane Rohr, no rules, ingenuity.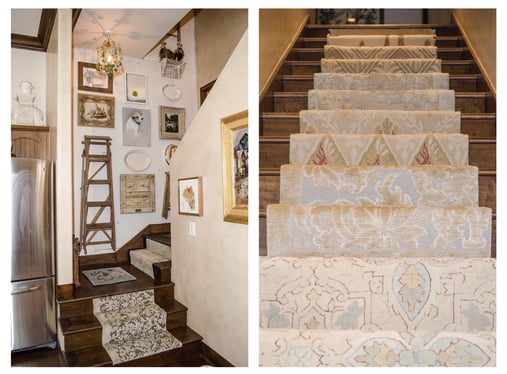 How did you become involved in interior décor and design?
Well…I have been addicted to textiles for as long as I can remember. I love traveling and finding unique and handmade textiles from each place that I visit. When one of my old bosses went through a divorce, they ended up purchasing a new home. When I saw the new home, I saw how gross it was… Disgusting! I wanted to help them work to re-do everything and that is how I found my start in faux finish work.
How did you learn all your faux finish techniques?
It is like jumping into a big pool and you just have to decide to sink or swim! With little money, I got creative on ways to create high-end looking décor without the high-end budget. I think my brain just sees things. It starts creating (whether I want it to or not) the moment that I enter a new space.
What is something you struggled with during your career making faux finishes?
I have always wondered why I even have to charge people money. I just want to create beauty…but that does not help me to support myself very well. It almost feels to be a native love, which allows for the truest form of my art to come through and money just shouldn't be involved.

What is your creative process?
NO PLANNING! It all comes together just as it should. I find good karma to play an important role in how my creative works turn out. No rules are followed and there cannot be any fear of failing! After all, I am usually just working on a wall.
What are some of your favorite shopping spots?
Flea Markets (particularly in Paris or London), yard sales, The Scarab, Holy Toledo, The Nest, The Linen Kist

To view larger images from Alta's design job, click here!

Related Information