Kellye O'Kelly Brightens Up Horizon Pass Unit

Located at the top of Bachelor Gulch in Colorado, Horizon Pass is an on-mountain, ski-in/ski-out lodge that allows homeowners to enjoy village-to-village skiing between Bachelor Gulch, Beaver Creek and Arrowhead. Interior designer Kellye O'Kelly, of Slifer Designs, recently completed work on the 3,500 square-foot, four bedroom, four and half bath home for clients who are from Miami, Florida. Described as contemporary, bright and colorful, the home is a transformation from dark and heavy to light and airy.
"The clients wanted to lighten everything up and add bright colors, but still keep with a mountain theme," O'Kelly explains. "This home is a blend of bright beach colors with mountain design elements."
In order to achieve the clients' desired look, O'Kelly started with an orange, grey and white color palette because the homeowners love fall colors.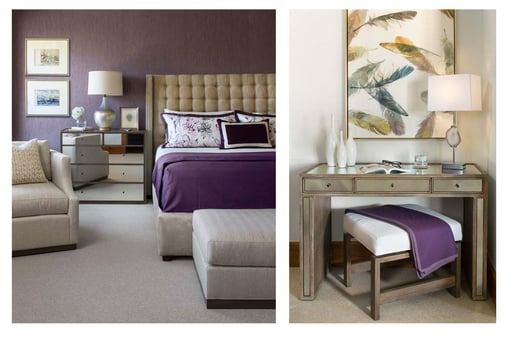 "We painted all of the walls white and updated the lighting throughout to freshen up the space," she says. "We also painted the original black powder room vanity white and lightened it up with an ivory wallcovering."

Two custom pieces were built to accommodate the clients' needs including a bar furniture creation that has a refrigerator, covered storage for liquor and a wine cooler, and a custom built-in banquette in the son's bedroom for playing games or working on his computer.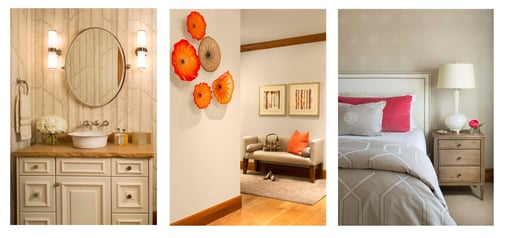 For the living room, O'Kelly used a rug from The Scarab that was "neutral yet still had some pattern and interest in the design." She says Kirsten and Daniel helped her "find the perfect rug that was monochromatic with a beautiful silk pattern." O'Kelly adds, "It was the only rug I showed my clients and they loved it! Working with The Scarab makes my job easy when I can describe what I'm looking for and they know exactly what to pull or bring in for the project."
© Kimberly Gavin Photography

Related Information

Read more about Kellye O'Kelly.