Bringing The Old West To Steamboat Springs

Located in the Creekside Building of the Torian Plum complex, the five-bedroom, six-bathroom condo is situated at the Steamboat Springs ski area with a slope-side deck view. Initially two separate units, the condo's dividing wall was removed and the two units came together to form one larger space that Lynne Barton Bier, Principal/Lead Designer at Home on the Range Interiors, describes as much more of a home than a ski condo.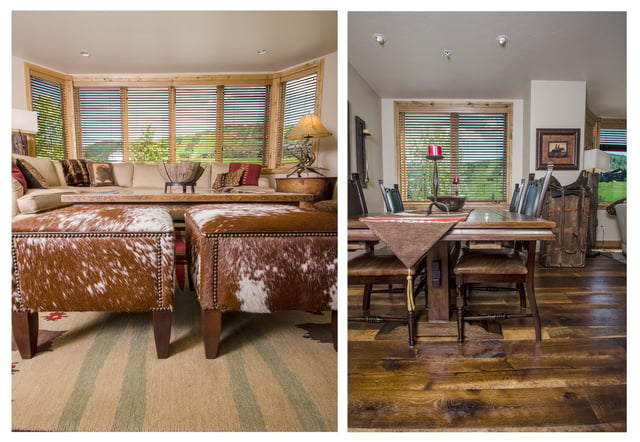 "The remodel that merged the units had been completed before our clients purchased the unit and before we began working the interior design with them, but a fantastic job had been done in terms of layout and use of space," Bier explains.
The clients' ultimate goal was to create something warm, inviting and updated that also fits its ski and ranch town surroundings. While the overarching theme is rustic/western, Bier says the home comes with "bits and pieces of other styles incorporated to create a unique look that fit the clients' personalities."
She adds, "Our clients planned to spend a significant amount of time there and wanted something that felt more like a home than a condo."
In an effort to make the unit feel like home, Bier incorporated a style that pulls from many different categories. For example the living room floors were replaced with antique white oak and Bier used a chunky, reclaimed wood coffee table with a glass top, along with a lighter colored, more traditional-looking sectional, a distressed leather chair and ottoman and a copper drum end table.
"We layered all of this on top of a gorgeous Mesa Collection rug from The Scarab and added art and accessories that created a very warm and inviting environment that feels cozy even when the snow is coming down outside," says Bier.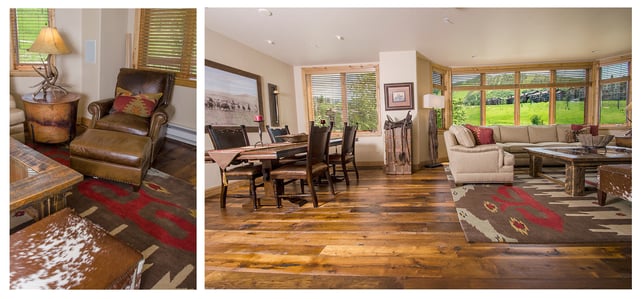 After selecting fabrics, Bier immediately knew that this particular New Moon rug "would be a fantastic showpiece that would add a slightly more contemporary twist to the style and also help bring the other components together."
She adds, "The large scale pattern and color worked well because even with the big sectional and chunky coffee table you don't feel like you lose any of the rug."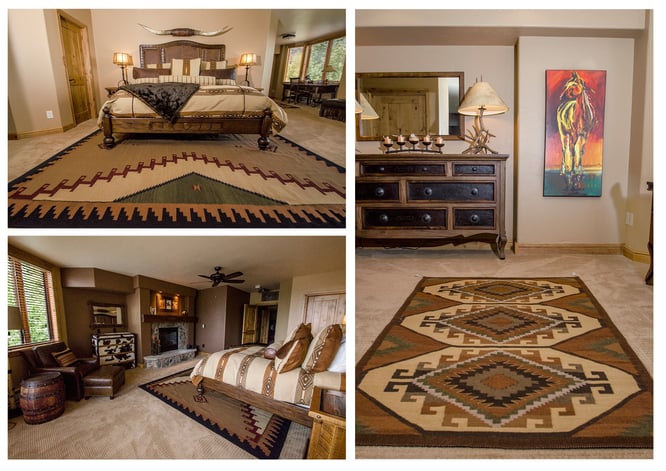 According to Bier, the most enjoyable aspect of the project was "seeing the transformation of the space from a tired, run-of-the-mill condo into the finished product."
She also describes the home as having an old west, ski town feel that nicely reflects the area.
"The style is something very Steamboat; it sets us apart from other ski areas and you can really only experience it properly in the Yampa Valley!"

Related Information
Read more about Lynne Bier.
Photography © Janie Viehman