Andrea Georgopolis of Slifer Designs
In 2010 Andrea went back to her Massachusetts roots to work on a client's house in Martha's Vineyard. Her clients owned a home for many years before bulldozing it and working with Andrea and a local architect to build their dream beach home.
"These are repeat clients and Andrea has completed two homes in Vail for them and is currently working on their primary home in Boston," Design Associate Shelley Neely explained.

When the property next door became available the clients purchased it to build the main house. Then they built a new structure on their former lot that is now the guest property.
The clients' goal was to create a comfortable beach home to be enjoyed by family and friends. They wanted to use bright beach colors including blue, green and white and were looking for a casual but sophisticated escape from the city.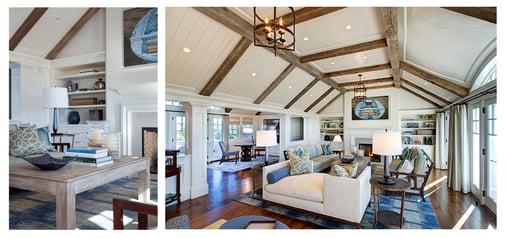 Built "upside down" with the main living area, master and kitchen located upstairs, the house was constructed in such a manner to take full advantage of the beach view. The clients live in nearby Wellesley, Massachusetts and spend most weekends on the island golfing, playing tennis and hitting the beach.
According to Neely, the rugs purchased from The Scarab "really helped to convey this theme and tie the colors of the house together."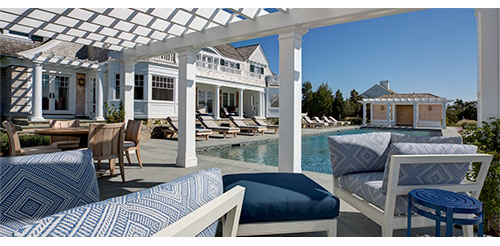 Completed in 2012, the 5,000 square-foot house features all custom finishes. Each room is unique but all work together as a whole. Andrea used reclaimed beams for the main level of the house. In the kitchen she used both granite and sandstone for the countertops mixed with driftwood colored cabinetry. All the bathrooms were done in a mix of mediums including travertine, porcelain, glass, ice stone and mosaics.

Related Information
Discover more about Andrea Georgopolis.
See Andrea's creativity in Downtown Denver.