After 27 years in the floor and wallcoverings industry, Creative Matters President and Owner Carol Sebert has gained unparalleled insight on the art and business and rug design. Over the years she has built a clientele that is both global and highly-regarded in the hospitality, corporate and residential sectors.
In recent years she has found that the strongest influences on floorcovering design and production come from three sources including design perspective, inspiration and production. In terms of design, Sebert sees influences from more recognizable motifs including floral compositions, crisper geometrics and colour. As a result, she has also seen the industry deviate from complex broken down rusting walls/metals/organics. Sebert credits fashion runways and the natural world for inspiration, along with looking at what's going on with other textiles. Lastly, she has found that the movement towards ethical production continues to gain momentum. Initially, the most significant issue was child labour but now Sebert says that clients ask about fair trade and environmental practices in all aspects of manufacturing.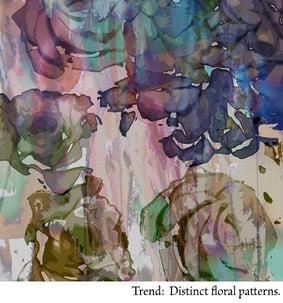 She adds, "It gives me great pleasure to be working with clients and mill owners who are so committed to finding better ways of trading and producing."
During the next five years, Sebert sees technology continuing to revolutionize the rug design industry in all three sectors – hospitality, corporate and residential. She explains that because digital printing has become a game-changer in machine-made floorcoverings, the possibilities for pattern, colour, scale, and texture will grow exponentially.
"We are also seeing innovation in classic production methods, for example it is now possible to add handtufted elements to Axminster," Sebert explains. "For Axminster carpets, the pile and backing materials are woven together on a mechanical loom in a single operation, so traditionally we were unable to add special effects. Now, with new technology, we were able to handtuft 100 percent silk 'gold veins' on to the 80 percent wool/20 percent nylon Axminster base."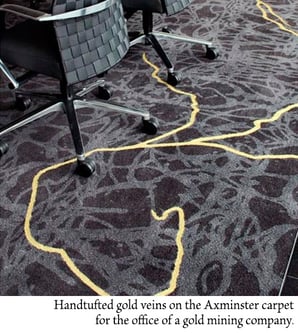 Technology has also advanced the hospitality area of rug design because for extensive spaces, printed carpet is usually the best choice. Until recently, this technology required a repeat pattern but now the total design for large spaces can be of any size and without a repeat. For residential carpets, Creative Matters is now implementing more delicate textures using a new technique that is normally reserved for traditional rugs: a flat warp and weft with raised cut pile silk and the border with the fringe adds a detail that Sebert is also seeing return to modern carpets.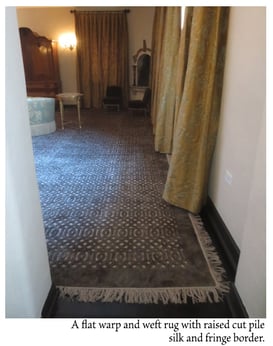 Because Creative Matters clients are interior designers and architects there is a constant collaboration that takes place which Sebert says "starts with a discussion of the feeling the designer is trying to evoke." She continues by explaining that while the methods of production, timing and budget are always handled later, "what makes a collaboration truly special is when the ethereal aspect of design leads the discussion."
She recalls one client who said, "'Send me something Jackie O.' Heck, what's that? But actually, when I went to our library, I had a feeling rather than a description of a style, so much fun that way."
Ideally, Sebert says, the perfect balance is when the clients guide Creative Matters with the design vision they have for the space but then Creative Matters takes the lead concerning manufacturing methods and detailed colour selection.
After so many years in the business Sebert has heard it all when it comes to common design and production myths but the first myth that comes to mind is the notion that a carpet can be made really quickly – especially handknotted rugs. She says that sometimes people believe that there is a large machine responsible for creating a handmade rug which is incorrect. That being said, Creative Matters does have access to tools that speed up the process for handtufted and machine-made carpets when necessary. For example earlier this year the designers at Karim Rashid Inc. contacted Creative Matters because they were looking for speedy production of a carpet feature they conceived for their display at the Wanted Design show in New York. Sebert proudly states that, with the cooperation of U.S. mill Milliken, her team was able to deliver a custom printed carpet backdrop in five weeks.
While Creative Matters has always been committed to quality products, sometimes they have clients who are on a budget and hope to cut corners. When dealing with a scenario like this, Sebert says her team uses their extensive knowledge of the range of manufacturing techniques and usually finds a solution that fits the budget.
She notes, "Naturally, there is a limit to how far we can go, so occasionally we do have to turn down a project rather than compromise our standards."
Another collaboration Sebert is proud of is with Label STEP. Eight years ago she met with the organization's local representative in Kathmandu and three years after that Creative Matters began working them. Sebert explains that she liked the method they use to ensure that mills meet their fair trade designation – by guiding the mills to make alterations. She trusts Label STEP in all their initiatives because they have a special understanding of the Nepali weavers and mill owners. Label STEP brings something important to a Creative Matters rug – a security that the rug woven under their watch has been made ethically which is extremely important to Sebert, to her staff in Toronto and to all the owners of Creative Matters rugs.
Similar to the importance of knowing that a rug was created ethically, Sebert cites communication, high-quality construction, solid interpretation of their artwork, correct colour match and a creative outlook as vital aspects when choosing which mills to work with in different countries.
"Nothing worse than a mill saying they can't do something," Sebert says. "Much more fun to work through a project and come up with a creative answer to a manufacturing challenge – for example in 2014 we designed a carpet for Rainbow Room in New York. Although the palette was fairly neutral, the grey tones were critical to the design and the mill had to send us many different samples. Collaborating with a mill that has the patience to work through such challenges makes it all the more rewarding when the project is complete and surpasses the designer's vision for the space."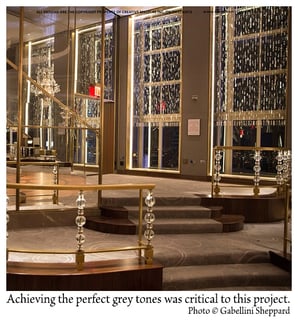 Although it's not surprising considering the term is literally part of their brand, creativity is something encouraged daily in the Creative Matters office. In fact, addition steps to boost creative thinking within the firm are taken through their signature Art Day process which has now generated over 2,000 designs and on specific projects where the team is given parameters and limitations. For those projects, Sebert urges the designer to submit further concepts that might not exactly fit with the interior designer's initial request because she has found that both the interior designers and architects really appreciate those additional ideas.

Read more about Creative Matters.
New Comment: