Interior Design By Elizabeth Basso
Located at Vantage Point in Lionshead Village in Vail, the two-bedroom condo features panoramic views of the world-renowned ski area. Interior Designer Elizabeth Phelan Basso, of Basso Interiors, Inc., considers the home to be "mountain transitional" as the client prefers more modern artwork and style. Additionally, because the client is a mother of two boys, durability was a must when designing the home.

Adds Basso, "She wanted something that wasn't overly mountain, but that was nicely elegant for entertaining, and had a bold color palette."
By keeping the backgrounds neutral and using splashes of color in the furnishings, Basso created the ambiance her client envisioned. Basso says she also really loved the dining table, which is a reproduction of a French farm table, that was customized to fit the narrow, long space.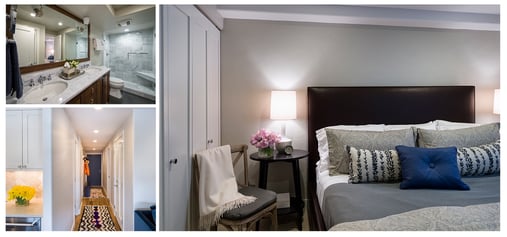 Whites and greys were used in the bathrooms and colors were used on the trims and walls, but Basso still kept the casual mountain feel by using wood vanities. "Also, the wood floors featured a deeper brown finish to warm up the whites," she explains.

In the living room, a woven blue and beige geometric pattern rug from The Scarab was chosen to "give the room some grounding." Basso says that the rug provided a nice textural backdrop for the sapphire velvet sofa, but was "not overly heavy or patterned which allowed the colorful art and pillows to pop." She also describes the rug as having natural wool fibers of beiges and greys and points out how she "really loved that the natural wool colors mixed with the soft blues can be easily seen."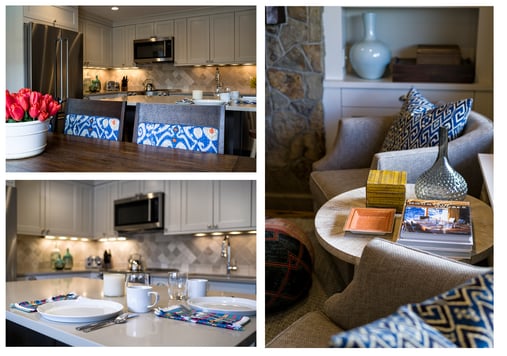 Because the area was long and narrow, the rug worked well in the space. Also, the twig "nest" chandelier is one of the client's favorite pieces Basso selected as it is whimsical, but functional.
Although the small space was the most challenging aspect of the project, Basso selected deep, comfortable seating and a great built-in banquette to make the room cozy while capturing the best views of Vail mountain.

She adds, "The client wanted her home to feel fresh, updated, slightly feminine, and sophisticated – all of which we accomplished together."
Related Information
Read more about Elizabeth Basso.