Steamboat Springs Home On The Range Offers Interior Design to Round Mountain Ranch
Located in Steamboat Springs, the 1,100-acre Round Mountain Ranch property features several buildings including the 5,126 square-foot "bell tower" home (which has an actual bell tower in it), the 4,000 square-foot ranch manager home, two staff houses and three guest cabins.
Susan Howard and Lisa Berry of Home on the Range Interiors were asked to work on the bell tower home and the three guest cabins. The homeowners wanted to preserve some of the Western furnishings of the bell tower home and retain a comfortable, relaxed atmosphere, but also wanted it updated with modern elements.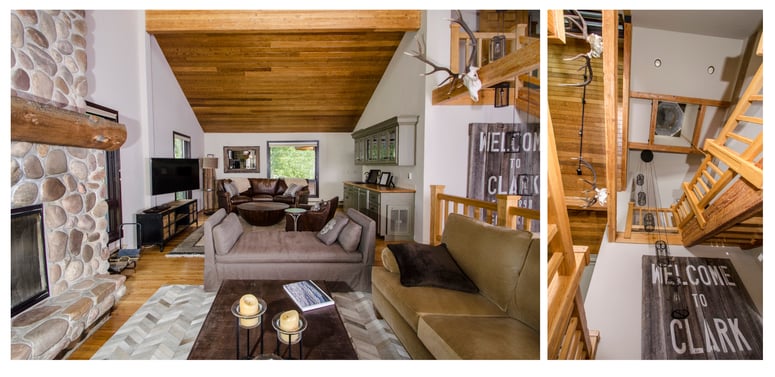 Howard explains that the homeowners were looking for "a palette of neutrals with an emphasis on grey" so she and Berry chose a rug from The Scarab that "provided several muted grey tones along with cream which kept the overall effect quiet and light."
Because of its allusion to Native American rug designs, the rug from The Scarab was chosen because it had a largescale geometric pattern with a tribal feel that Howard says helped marry the rustic Western table base with the modern lines and color of the dining chairs.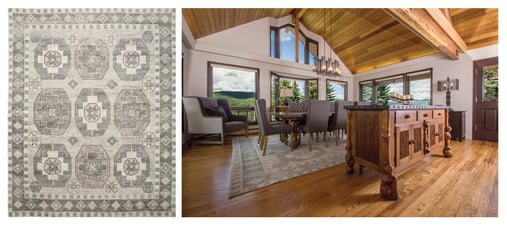 In order to achieve the Western but modern look, Howard and Berry also replaced the chandeliers with streamlined iron fixtures, gel-stained the window frames to temper the divergent wood tones and supplied furniture with rustic, reclaimed wood paired with iron accents.
Howard says that "the long, fairly narrow living room was divided into two seating areas with a centrally located chaise which allowed conversation to flow from one area to another."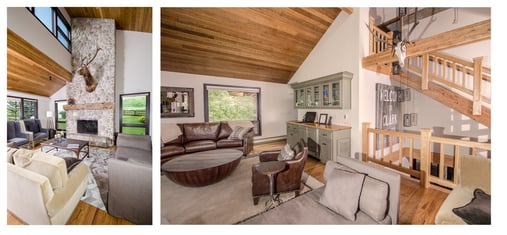 Both Howard and Berry mention unique aspects of the project including the short timeframe and the seamless transitions they created from one structure to another. One interesting piece of the project was transforming the bell tower house without major structural changes. Another was carrying the blend of rustic, Western and modern elements into the guest cabins to provide a smooth transition between the buildings.
Because the property was recently purchased, Berry says they had five weeks to complete the bell tower house before the family's first use of the acquired property.
"All furnishings had to be available to ship immediately in order to meet that deadline," she notes. "Thankfully, The Scarab was able to get the rugs we wanted in a timely manner and luckily Larry was able to bring it over from Vail, in person, in time for our delivery."

Whereas Howard met The Scarab team online while searching for rug options for another client's home last September, Berry has known both Jane and Larry since she worked for Slifer Designs in Vail in the late 1980s.
"Everyone we have worked with at The Scarab has been eager to please and timely in their responses to our inquiries," adds Howard.
Photography
© Janie Viehman
Related Information
Read more about Susan Howard.
Read more about Lisa Berry.