Reclaimed Wood and Old Fashioned Mine Lift Create One of a Kind Mountain Getaway

Located in Breckenridge, this 5,300 square-foot fulltime residence features four bedrooms and five bathrooms. While mountain homes frequently incorporate wood in the décor, this home exemplifies how to take the material to another level. By using repurposed wood and designing an elevator that looks like an old-fashioned mine lift, the homeowners created a unique ambiance that demonstrates how to design a grandiose western home.

"We've always liked the look of reclaimed wood and were going for a rustic look that would not require a lot of upkeep" the homeowners said. "Additionally, the elevator mineshaft idea came with the thought of keeping the deep history of mining in this area in mind."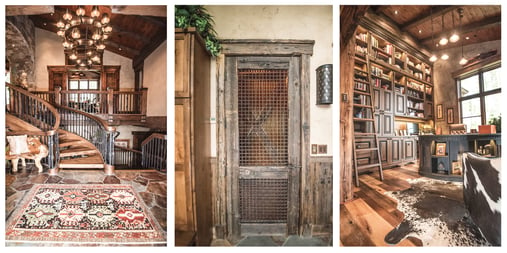 With sweeping staircases, dark wood, and distinctive leather furniture, the Summit County homeowners clearly achieved the rustic elegance they were hoping for in terms of style and historical significance. If the furniture looks unique that's because it was custom-designed by Steel Strike Leather Products out of Buena Vista. Founded in 1989, Steel Strike creates timeless hand-crafted leather and wood furnishings with an American West flair.

In an effort to design the mountain home they've always wanted, the homeowners worked with Denver interior designer Dixie Niichel with Niichel Design.
"Having never built a house in the mountains, and one that was totally custom, our interior designer was invaluable," the couple explained. "We worked very well together as she picked up on our style very quickly and never forced her ideas on us. We had a very clear vision of the look we wanted."
In terms of rugs, the homeowners chose two from The Scarab which are located in the great room and in the foyer.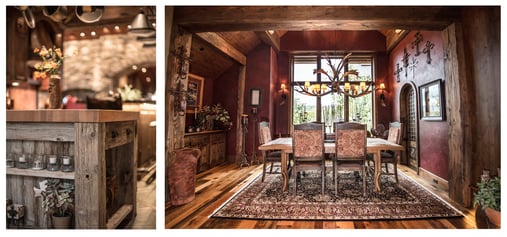 The homeowners add, "We had specific colors we were going for and chose these rugs not only for the color but also for the design and quality. I have enjoyed getting to know some of the employees at The Scarab and will gladly continue doing business with them!"
See all our images of this home in larger format in our lookbook.