Sarah Carr Balances a Husband's Mountain Retreat with a Wife's Modern Appeal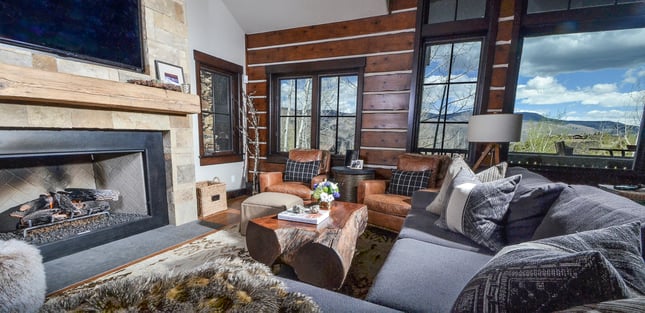 Located up the hill from the Ritz Carlton in Bachelor Gulch, this residence at Buckhorn features stunning views and proximity to one of the world's most coveted resorts. Their five-bedroom, five-bathroom home is so close to the Bachelor Gulch Express Lift that the homeowners can ski down in less than two minutes.
Of the owners, the husband wanted a look disctinct from their home in Houston that embraced a true mountain retreat while his wife was looking for a more modern decor. Sarah Carr of Sarah Carr Design succeeded in accomplishing her both clients' desires. In addition, the living room she designed for their home was selected as a finalist in an Architectural Digest competition.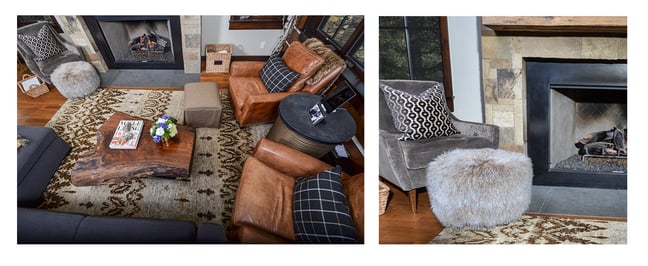 When asked how she achieved the couple's desired combination Carr explains that she "mixed the styles – for example leather chairs and a custom-made walnut cocktail table combined with clean lined sofa and mid-century modern lounge chairs."
She continues, "It's a beautiful mix of textures with clean lined forms that achieved the chic and comfortable interior. Placing ceramic antlers bedside sconces is a perfect example of the blended styles."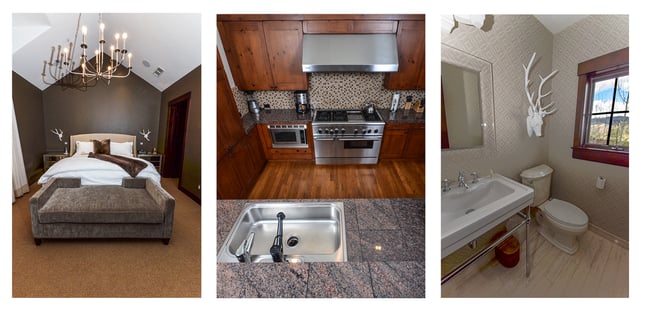 Additionally, because the couple has three small children, Carr says that everything was centered around family and comfort which included "updating the color of the millwork and redesigning the TV/fireplace with a more updated, clean look."
Carr says she enjoyed working with this family and describes them as the types of clients that make her enjoy her job.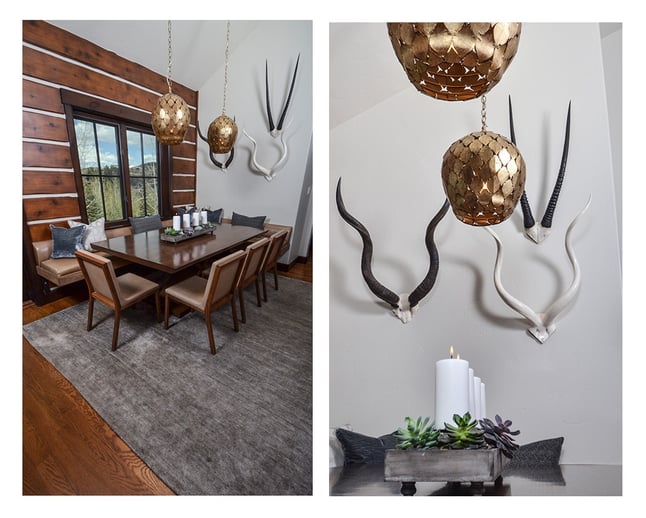 "I'm proud of the design we created together and I'm glad we were able to turn a very outdated rustic property into a wonderful mountain getaway for this family," she adds.
Chosen in the Minturn, Colorado showroom with Kirsten, Larry and Daniel, The Scarab rugs selected for the home were placed in the living room and dining room.
"We needed styles that complimented the design aesthetic but were kid-friendly and those rugs worked perfectly," she says.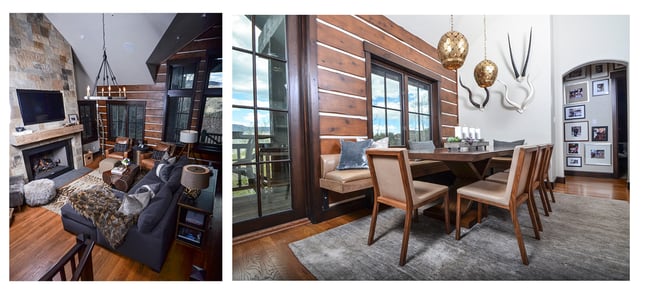 In addition to offering high-quality rugs, beautiful selections and lots of options, Carr says that she continues to work with The Scarab because it's always a positive experience.
"I've worked with The Scarab for about 10 years because they have a friendly staff and nothing is ever a hassle," she explains. "I'm allowed to try rugs until we get them right and I appreciate their patience and diligence."
Related Information
Read more about Sarah Carr.
Photography © Janie Viehman