Studio80 Specializes in Custom Design
Interior designer Tracie Schumacher of Studio80 specializes in custom interior design that fits each client's unique lifestyle which is exactly what the Coyote Ridge Farmstead project needed. Located high above Avon, Colorado, the 12,000-square-foot luxury bachelor pad pays homage to the rural structures of the owner's native Nebraska.
"There's definitely a homemade quality to the design, but it's also very sophisticated thanks to inspiration that came from around the world," Schumacher said. "We wanted to create a space that was at once functional and intellectually stimulating."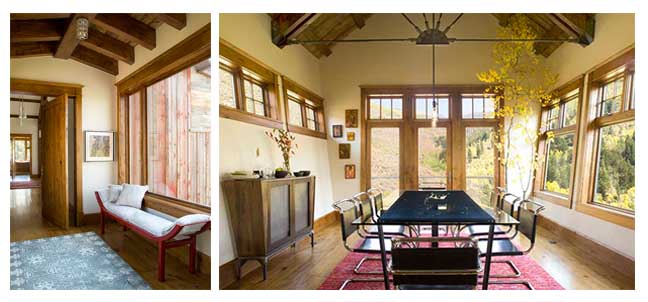 Exemplifying homeowner Mike Farr's uncommon approach to design and woodworking, Coyote Ridge is authentic inside and out. The exterior wood siding is reclaimed from old rural buildings in Iowa and Nova Scotia and inside features woodwork crafted from reclaimed wood. Schumacher helped achieve the farmstead's "industrial barn" vibe which included soaring spaces, exposed forms and raw finishes.
Creative Accents
In an effort to take the edge off the wood and metal, Schumacher creatively added accents such as a fluffy alpaca rug to the living room and a yellow hand-woven rug made from Indian saris to the sitting room – both of which came from The Scarab. A total of six rugs from The Scarab were used in the house.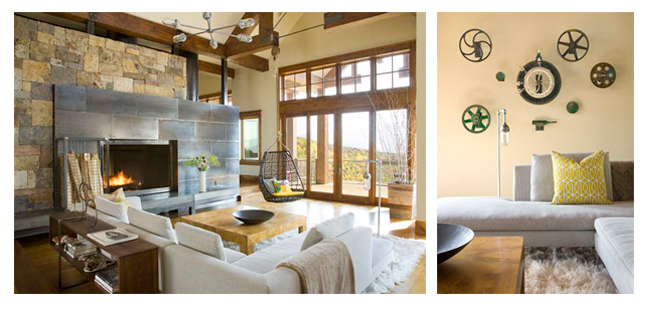 "The Scarab worked alongside us as a very collaborative team member," Schumacher said. "They have so much understanding of the industry and quality products so it's a no-brainer for us to work with them. They have an incredible team that has a great eye for design details and color, along with knowledge of cutting edge designs being produced around the globe."
Schumacher also explained the ways in which ideas from The Scarab team were integrated into the project.
"I would show them concept photos and ideas for the home and they would come up with rug selections that they thought would help me complete the look," she said. "The Scarab has been an incredible resource and time saver for our firm. They will always be part of our team."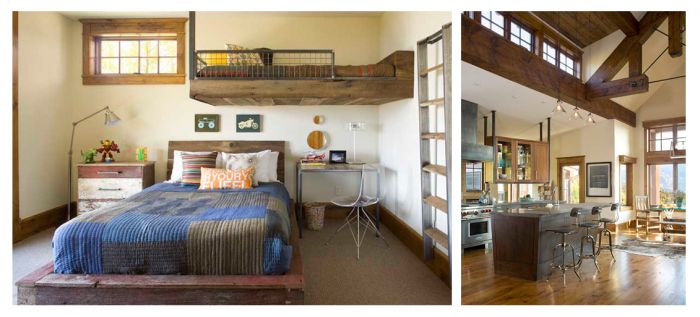 An Integral Thread
According to Schumacher, because she was working with such "strong interior architecture and unique designs," the rugs were an extremely important aspect of this home's design.
"We really needed the rugs to not compete but to become an integral thread into the tapestry we were creating," she explained. "The rugs really help set the stage from where all the other details spring forth."
Schumacher's long history with using rugs from The Scarab started back when they were in their original Minturn location.
"I walked in to another world that day," she said. "It's honestly one of the coolest shops I've ever been in – I wanted to hang out there all day long and browse all the amazing things they had collected to sell. That same day I met the owners and employees. Let's just say it was a match made in design heaven. It's still one of my favorite places to go."
If you have a comment about Tracie's project, please comment below. We would love to hear from you.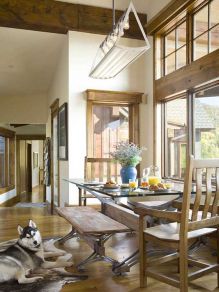 Related Information
Read more about Tracie Schumacher.
Villa Cortina: Creating A Modern Cabin
Photography

©

Kimberly Gavin